RECOMMENDED READING: The Yonkers Newswire Provides The Latest Community News Written By Award-Winning Editors And Local Reporters
Image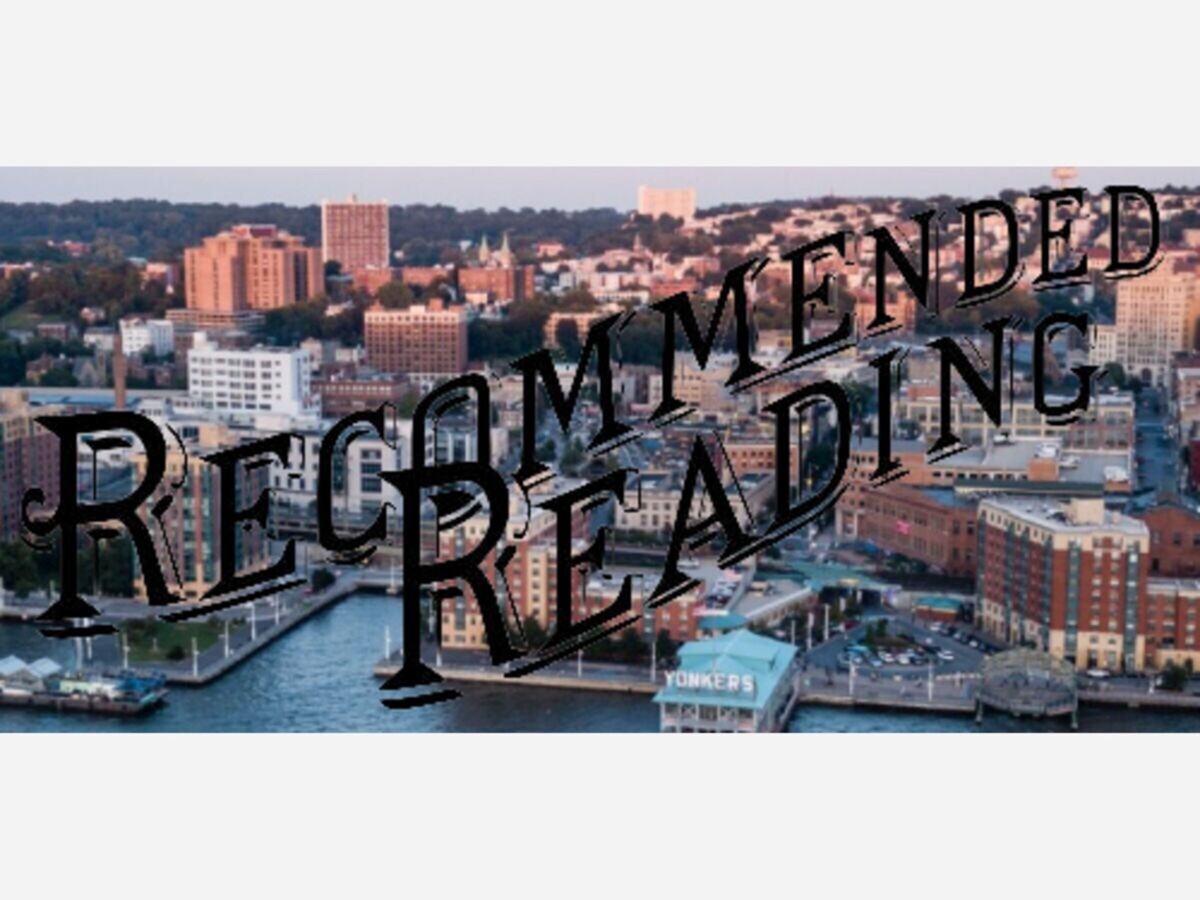 YONKERS NEWS STORIES: Get The Latest Updates From Yonkers Newswire Editor Brian Harrod
https://www.facebook.com/search/top?q=yonkers%20newswire
YONKERS MAN: 2 New York men arrested following police chase of rental truck loaded with $4,000 stolen cooking oil 

GENERATION YONKERS: #PrinceGonzalez, of #Yonkers, and Leuri A. DeLeon Blanco, of the Bronx are facing multiple charges after leading police on a chase.
Connecticut State Police say both men stole 1,000 gallons of cooking oil from two pizza restaurants in Old Saybrook before being confronted by the stores' owners.
Police say after the confrontation, the men took off in a Home Depot "Rent Me" box truck and headed south on I-95.
Law enforcement officials used "Stop Sticks" which ultimately brought the vehicle to a stop near Exit 18 in Westport.
Once stopped, both Gonzalez and Blanco ran from of truck but were quickly caught by police.
Both men are being held by Old Saybrook Police on a $50,000.....
https://www.facebook.com/groups/YonkersNewswire/posts/3265088550415367/
###

SENTENCING DAY: Prison For Bronx Man Who Aimed Gun At Girlfriends Head In Yonkers
A man who terrorized his girlfriend will spend years behind bars because of his actions.
Jose Ramos was sentenced today to three-and-a-half years in prison, with five years of post-release supervision, Westchester County District Attorney Miriam Rocah announced. The 48-year-old had earlier entered a guilty plea to felony criminal possession of a weapon in the second degree and felony criminal possession of a weapon in the third degree.
On October 7 of last year, shortly after midnight, Ramos pointed a loaded gun at the victim's head in her home in Yonkers. During the incident, the victim texted a friend for help. The friend then called the police.
The Yonkers Police Department arrested Ramos shortly after the incident and seized the gun and a switchblade knife....
https://www.facebook.com/groups/YonkersNewswire/posts/3264857723771783/
###
GENERATION YONKERS: Yonkers Voice Reporter Ru Ros Posted The Following....
"We just heard that earlier today (6/8/22 at around 3:30am) there was a armed home invasion at 1 Crestvalle Terr. Residents were tied up and I am told that large amount of money taken. The house has been guarded the entire day by PO and detectives may still be at the scene investigating." 
https://www.facebook.com/groups/YonkersNewswire/posts/3264347860489436/
UPDATE >>> YONKERS POLICE DEPARTMENT: Yonkers Police investigate Crestvale Terrace home invasion

Yonkers, NY - On Wednesday, June 8th, 2022, at approximately 4:45 AM, members of the Yonkers Police Department responded to a two-family residence on Crestvale Terrace on a report of a robbery.Preliminary investigation yielded that several armed suspects forced entry into the home, targeting a specific apartment that was unoccupied.
In searching the home, they entered the second apartment and encountered an uninvolved family.After searching the home, the suspects fled in a motor vehicle; the family escaped uninjured.
Investigators have determined that the targeting of the home was not a random event, and that the suspects may have had prior knowledge as to sought proceeds.
Yonkers Police Detectives are actively investigating this incident, developing information to identify the perpetrators and effect arrests.
Additional information may be released as it becomes available.
Anyone with information regarding this incident is asked to call Yonkers Police Detectives at (914) 377-7725....
https://www.facebook.com/YonkersPD/posts/392625519559620
###

YONKERS EATS: Popular Restaurant Chain To Open Location At Cross County Center In Yonkers
A popular restaurant chain known for its chicken fingers is set to open a brand-new location in Westchester County.
The Cross County Center in Yonkers announced that Sticky's Finger Joint will soon open a location there....
https://www.facebook.com/groups/YonkersNewswire/posts/3264851200439102/
###
YONKERS EVENT: Free Breast Cancer Screenings At Yonkers Public Library On Saturday
A new public health initiative to increase breast cancer screenings in the Yonkers community, could save your life or the life of someone you love.
The Rotary Club of the Hudson Valley and Montefiore Einstein Cancer Center are collaborating to provide screenings with a newly FDA-approved device, iBreastExam, which is non-invasive, portable and radiation-free. This breast exam is quick and painless, and helps discover previously undetected breast lumps and lesions.
Approximately 1 out of every 8 women in the U.S. is diagnosed with breast cancer....
https://www.facebook.com/groups/YonkersNewswire/posts/3264856363771919/
###

PRIDE MONTH: There Was A Pride Flag Raising Yonkers And Today There Is A Drag Queen Show  That Yonkers City Council Man Anthony Merante Is Objecting To
Council Man Merante Released The Following Statement:
"I strongly feel that children do not belong in this environment.
If a parent wants to teach their children about the #LGBTQ community that is certainly fine but children's activities at an event with "Drag Queens" is not.
Drag was created as a bawdy art form with both innuendo and explicit performances for adults.
Regardless of there being music, face paintings and bouncy houses adjacent to this event, kids should not be included at an event with Drag Queens!
This should have been considered an adult event.
I'm not anti LGBTQ,, but again this isn't the place for children especially when The City of Yonkers funds are being used to sponsor the event.
What do you think?
Am I being too old fashion in my views?"
https://www.facebook.com/groups/YonkersNewswire/posts/3262108617380027/
###
YONKERS REAL ESTATE: Extell's Massive Hudson Piers Development Could Have Its First Residents Moving In With In Two Years
Extell's Hudson Piers in Yonkers: construction underway Six new buildings with 1,400 apartments and nearly 40,000 square feet of retail space will fill in one of the last gaps in the Yonkers skyline.
https://www.facebook.com/groups/YonkersNewswire/posts/3263126367278252/
###
AFFORDABLE HOUSING: $49M Landy Court opens in Yonkers
A new $49M building with 80 units of affordable housing was opened June 9 in #Yonkers. Landy Court is located at 10 School Street....
https://www.facebook.com/groups/YonkersNewswire/posts/3264848990439323/ 
###

THE RENT IS TOO DAMN HIGH: #Yonkers Crossed This Threshold Over A Decade Ago....
SCARY NEWS: The national median rent price has crossed the $2,000-per-month threshold for the first time in history....
https://www.facebook.com/groups/YonkersNewswire/posts/3266275466963342/
###
LAW ENFORCEMENT UPDATE: Westchester County Executive George Latimer Has Appointed Terrence Raynor Acting Westchester County Police Commissioner...
But We Still Have Not Heard The MTA's Announcement That former Yonkers Police Department Commissioner John Mueller Is Going To Be The New Chief Of The Department....
Westchester County Department of Public Safety Commissioner Tom Gleason retired this month.
https://www.facebook.com/groups/YonkersNewswire/posts/3261929614064594/
### 
PUBLIC SERVICE ANNOUNCEMENT: For those who couldn't watch the entire 1/6 hearing last night, here it is in its entirety. 
https://www.facebook.com/groups/YonkersNewswire/posts/3266309246959964/
###
YONKERS PUBLIC SCHOOLS: Announced the 2022-23 teachers of the Year
Dawn Marie Soliman, Kindergarten, School 23
Sunitha Howard, Science and Environment Living, Grades 7-8, School 5
Theresa Smith, Science Grades 9-12, Lincoln High School
https://www.facebook.com/groups/YonkersNewswire/posts/3260363410887881/
###

QUESTION OF THE DAY: Are The Days Of The Bird In #Yonkers Numbered?
SCOOTER FAIL: Bird gives 23% of its employees... #LOL...The bird....
https://techcrunch.com/.../bird-plans-to-layoff-23-of-staff/
###
SOUTH YONKERS LANDSCAPING: A $2 million investment from the Bank Of America, New York state and the Bezos Foundation hopes to fix tackle flooding issues that residents have been dealing with due to climate change.
"We are looking at 100-year storms and flooding that are now happening every year, sometimes multiple times a year," says Bridget Griswald of Groundwork Hudson Valley
"We are looking at extreme heat, which is essentially, of all the natural disasters that kill more than all the others combined."
The plan is to create bioswales, which are landscaped depressions that absorb storm water, as well as rain gardens.
Trees will also be planted outside for shade, seating will be created and a community garden will be built in #Yonkers....
https://www.facebook.com/groups/YonkersNewswire/posts/3264297380494484/
###

TWEET TWEET: You Can Join The 18,600 Plus People Who Follow Yonkers Newswire Group Admin Brian Harrod's Team On Twitter
Find the top and breaking news, pictures and videos on the Get The Daily Dirt Twitter Feed.
It's our job to find the most difficult and bizarre political stories from newsrooms here and around the world.
https://twitter.com/GetTheDailyDirt
###
UNITY IN THE COMMUNITY: Christella Is A Knockout In More Ways Than One And The City Of Of Hills Is Proud To Support Her....
YONKERS LADY: Christella Cepeda to Represent Yonkers in the 139 Elite Female Boxing Weight Class
YONKERS STRONG: The Yonkers local will compete Thursday, June 16th, at the Hulu Theater in Madison Square Garden.
She comes straight from Yonkers Knockouts (YOKO) an organization that enriches the lives of youth through boxing, an outlet that builds character, teaches discipline, and boosts self-esteem.
YOKO. allows young men and women to train with professionals and establish meaningful bonds.
https://www.facebook.com/groups/YonkersNewswire/posts/3263140860610136/ 
###
WOW: If You Thought #GettySquare Was The Worst, Then You Need To Look At This.....
VIDEO: Give Him Some Milk
YOUR BRAIN ON DRUGS: Fat guy on PCP rolls around like a log, onlookers suggest the healing power of milk
#LOL... #Baltimore's Funniest Home Videos
Milk: It does a body good!
#Educational #Crime #Milk #PCP #GotMilk #TheOtherWhitePowder
https://www.instagram.com/p/Ceqt4T4l2Fb/?hl=en
###
YONKERS ART NEWS: Statues to be moved to long-planned Enslaved Africans' Rain Garden in Yonkers
A project 13 years in the making is moving from the Yonkers Riverfront Library 
Crews will move five life-sized monuments from the at Riverfront Library to the waterfront where they'll become part of the long-planned Enslaved Africans' Rain Garden.
Sculptor Vinnie Bagwell says she's been working on the rain garden for over a decade....
https://www.facebook.com/groups/YonkersNewswire/posts/3262718823985673/ 

ALSO: Rain garden and sculptures to be unveiled in Juneteenth celebration 
Five life-size bronze sculptures of enslaved Africans who lived and worked at Philipse Manor Hall in #Yonkers are set to be displayed at The Enslaved Africans' Rain Garden that is due to be unveiled on June 17, when Yonkers begins this year's celebration of Juneteenth weekend.
Yonkers Mayor #MikeSpano along with sculptor #VinnieBagwell local artists and community leaders are scheduled to lead a ceremony at the rain garden located at 20 Water Grant St. 
https://www.facebook.com/groups/YonkersNewswire/posts/3266410230283199/
###
FOR IMMEDIATE RELEASE: The #YonkersPoliceDepartment arrest two men in Highland Avenue shots fired incident; two illegal handguns recovered 
PRESS RELEASE: On April 6th, 2022, members of the #YonkersPD responded to the area of 73-83 Highland Avenue on a report of shots fired.
YONKERS: Witnesses described two male suspects having fired shots in the direction of the building before fleeing the area.
No persons were struck, but there was property damage to several vehicles. Investigators believe this shooting was in relation to group violence.
Over the next two months, Detectives worked to develop information and identify the perpetrators.
Yesterday, June 10th, both suspects were located together in the area of Hawthorne Avenue and Morris Street.
Upon being approached by officers, both suspects attempted to flee on foot before being captured; both were found in possession of illegal, loaded handguns.
They are identified as Nigel OUSLEY, a 24-year-old resident of Hawthorne Avenue; and Jerahmeel SINGLETON, a 22-year-old resident of Stanley Avenue.
OUSLEY was in possession of a .380 Ruger semi-automatic pistol and SINGLETON was in possession of a 9mm Glock semi-automatic pistol.
Both men are being charged with felony weapons possession and felony reckless endangerment for the shooting on April 6th.
https://www.facebook.com/groups/YonkersNewswire/posts/3266419426948946/
###
YONKERS CARES: The First Responders Disability Registry aims to give first responders the critical information they need when going to the home of someone with a disability.
Residents who register can have peace of mind knowing that those responding will be aware of all relevant information when working with themselves or their loved ones.
Learn more and register at yonkersny.gov/frdr
###
YONKERS EVENT: Ukrainian Heritage Festival on Father's Day Weekend. This year 100% of all the net profits are going to aid for Ukraine!
https://www.facebook.com/groups/YonkersNewswire/posts/3264570997133789/
###
YONKERS CELEBRATION: The Yonkers Puerto Rican / Hispanic Day Parade was a big sucesses
VIDEO: Then Was A Concert And Festival That Took Place At Chicken Island Immediately After The Parade.
PICTURES: Community Leaders Were  There To Support The Hardworking Latino Leaders At The Yonkers Hispanic Cultural Foundation, INC.'s Yonkers Puerto Rican/Hispanic Parade Festival...... 
https://www.facebook.com/groups/YonkersNewswire/posts/3260431494214406/
###
COLD CASE: Can You Help The #YonkersPoliceDepartment With This Crime That Happened Nearly Seven Months Ago.....
INSIDE YONKERS: #YonkersPolice Detectives are investigating a Road rage incident that took place On December 25th, Christmas Day at approximately 6:30PM in the area of Lockwood Ave & Gavin St in Yonkers.
An innocent person who just had gotten off work was heading home when a male stopped his car next to him and walked out to brutally Assault him leaving him partially blind.
There was a witness that was in a light blue SUV, That is being asked to come forward with information in helping locate this suspect.
Yonkers Police needs your help finding this suspect before he strikes again. ANYONE who has any information please contact Yonkers Police at (914) 777-7724
https://www.facebook.com/groups/YonkersNewswire/posts/3266424123615143/
### 
EMPIRE CITY CASINO: Emergency Blood Drive On Wednesday June 22nd 
https://www.facebook.com/groups/YonkersNewswire/posts/3265176827073206/
###
YONKERS: SENIOR NEWS: On Friday, June 10, 2022, at 2:30 The City of Yonkers Conducted a Ribbon Cutting Ceremony for the beautifully renovated Bernice Spreckman Community Center located at 777 McLean Avenue....
https://www.facebook.com/groups/YonkersNewswire/posts/3263121543945401/
### 
STEW LEONARD'S: Yonkers set to receive 11,000 units of baby formula to help families through shortage 
YONKERS, N.Y. -- The first shipment of baby formula meant to help residents in Westchester County is set to arrive.Yonkers officials say more than 11,000 units of formula will be delivered.
They will be available at Stew Leonard's starting Saturday.Meanwhile, there's new information about the plant at the center of the shortage.
The company Abbot Nutrition and the FDA were reportedly warned twice about issues at the plant a year before a massive recall.
A former employee at the Michigan plant filed a complaint in February 2021, and a source says it was passed on to the FDA shortly after that.
The plant shut down in February of this year after allegations of unsanitary conditions.....
 
https://www.facebook.com/groups/YonkersNewswire/posts/3265176827073206/
###
2022 ELECTIONS: Re-Elect New York State Assemblyman Nader Sayegh on Election Day, November 8, 2022.
He is running for his 3rd Term, Serving Yonkers in Albany.
Be an Informed Voter in this year's Elections, before you vote.For
More Info on New York State Assemblyman Sayegh Re-Election Effort, Please Visit:
###
YONKERS CHILDCARE: A Good Day Care Center Is The Foundation And Key For The Success Of Your Child....
https://www.facebook.com/groups/YonkersNewswire/posts/3265941470330075/
###
NEW BUSINESS: Chuck E. Cheese Is Coming To 1703-1745 Central Park Avenue In Yonkers
https://www.facebook.com/groups/YonkersNewswire/posts/3261981857392703/ 
###
YONKERS CITY CLERK: Apply For A Passport At The Yonkers City Hall 

https://www.facebook.com/groups/YonkersNewswire/posts/3266429300281292/
###
YONKERS TRIBUNE >>> The Hezitorial Reality: Yonkers Public Schools Superintendent Dr. Edwin M. Quezada Said to Have Refused to Review the Security Capacity of the School District - By Hezi Aris
#Yonkers Mayor #MikeSpano's request of Dr. #EdwinQuezada to Initiate a study in light of the massacre in Buffalo, NY and the murder of children in Uvalde, TX was met with a flat out refusal.
Insiders with knowledge inform the Yonkers Tribune that a Quezada - Spano interaction took place and....
https://www.facebook.com/groups/YonkersNewswire/posts/3259270844330471/
###
SCHOOL NEWS: Yonkers Has Received Money That Can Be Used To Protect Children, But Insiders Say Superintendent Edwin Quezada Wants To Use The Money To Cover Other Things Like Pay Increases.....
PUBLIC NOTICE: The Yonkers Public Schools Is Holding A Public Hearing On Foundation Aid Plan/American Rescue Plan Funding June 14, 2022....
https://www.facebook.com/groups/YonkersNewswire/posts/3259270844330471/ 
###
2022 ELECTIONS: On Election Day, November 8th, Vote for Yonkers City Court Judge Ada Medina
She was appointed by Yonkers Mayor #MikeSpano to fill the vacancy created when Judge #ThomasQuinones got elected to the New York State Supreme Court.
Judge Ada Medina is a lifelong #Yonkers resident and is an advocate for equal justice.To Learn More About Judge Ada Medina Campaign Please Visit:
https://judgemedina.com/meet-judge-ada-medina/
###
WESTCHESTER COUNTY: Playland Park Has Opened
Playland, often called Rye Playland and also known as Playland Amusement Park, is an amusement park located in Rye, New York, along the Long Island Sound. Built in 1928, the 280-acre park is owned by the Westchester County government.
In the late 19th and early 20th centuries, Playland's waterfront area of Westchester County along the Long Island Sound was the site of a growing collection of recreational developments, including hotels, resorts, and "amusement areas".
Local residents concerned about what a county report described as "unsavory crowds" induced the Westchester County Park Association to purchase two existing theme parks, Rye Beach and Paradise Park, and planned a local-government-sponsored amusement park in their stead.
Construction commenced in September 1927, and was completed in six months. The park began operation on May 26, 1928.
Rides that were operating on Playland's opening day included the Grand Carousel, Derby Racers, and the Dragon Coaster....
https://www.facebook.com/groups/YonkersNewswire/posts/3263870873870468/
###
2020 ELECTIONS: Former Westchester County Executive Rob Astorino details "clandestine government flights" into Stewart and the Westchester County airport.
Astorino, who is running for the Republican nomination for New York governor he was aware of flights from EL Paso, Texas, on aircraft operated by Omni Air International carrying illegal immigrants.
These flights are legal under US Immigration laws and been occurring for decades.
Astorino says that he has been unsuccessfully tried to get information from New York Governor Kathy Hochul, who he likely would be running against should he get the GOP nomination.
https://www.facebook.com/groups/YonkersNewswire/posts/3264116277179261/
###
SAD NEWS: Yonkers Ukrainians Continue To Watch The Tragedy In Eastern Europe On A Daily Basis
DAY 108 OF PUTIN'S FAILED INVASION: #Ukraine President #Zelenskyy calls for more weapons in the East, fighting in Slovyansk as #Russia pushes toward Bakhmut, deadly cholera outbreak feared in Mariupol, and #Estonia's getting fed up with #Putin The Great 
https://www.facebook.com/groups/YonkersNewswire/posts/3266203486970540/
BLOOMBERG: Putin's Ukraine Miscalculation Is Getting Worse
Not only has Vladimir Putin's war on Ukraine managed to achieve the exact opposite of some of his previously stated objectives -- pushing back and potentially shrinking NATO for example -- but he's managed to force the American government to refocus its overall National Security Strategy back in his direction...
https://www.bloomberg.com/news/newsletters/2022-06-03/bloomberg-evening…
###
BUSINESS NEWS: Companies that bugged out of Russia after it invaded Ukraine are now being rewarded with fat stock-market returns. Those that stayed are not....
https://www.msn.com/en-us/money/companies/companies-that-exited-russia-…
### 
Brian Harrod is the publisher and editor of the RoundupNewswires.com news website, as well as, the hyper local YonkersNewswire.com news and social media pages. You can learn more about Mr. Harrod at BrianHarrod.com.